Tan Son Nhat Cinema in Ho Chi Minh City is screening eleven feature films, documentaries and cartoons until March 14 to celebrate 54 years since the first Vietnamese revolutionary movie was made.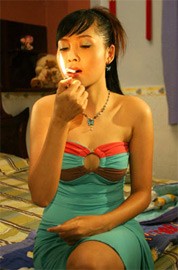 Actress Minh Thu in Gai nhay (bar girls)
The three features are Duong ve que me (The way to mother's country), Tuong ve huu (the retired general) and Gai nhay (bar girls), the four animations are Son Tinh Thuy Tinh (mountain and water genies), Con khi lac loai (stray monkey), Giac mo cua ech xanh (green frog's dream) and Nhung chiec ao am (sweaters), and the four documentaries are Dien Bien Phu, Nhung nguoi san thu tren nui Dak Sao (hunters on Dak Sao Mountain), Ha Noi trong mat ai (Ha Noi through the eyes of strangers) and Chon que (homeland).
At the same time, the Ho Chi Minh City Film Cultural House (which is organizing the film festival along with the city's Art and Film Archive Center) is holding an exhibition on the history of Vietnamese revolutionary movies and hosting five seminars on the local film industry.
Tan Son Nhat Cinema is located at 186 Nguyen Van Troi Street in Tan Binh District (near the airport).