A film telling the historic Ngoc Hoi-Dong Da victory titled Tay Son Hao Kiet (Tay Son heroic soldiers) produced by Ly Huynh Film Studio was recognized as the first historical movie with a large total investment capital of more than VND12 billion (US$600,000) in the country.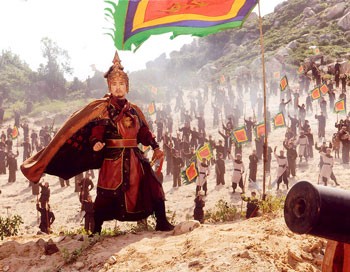 Actor Ly Hung ( King Quang Trung ) in the film Tay Son Hao Kiet
More than thousands of people, an elephant herd and numerous horses joined the film.
The film also received 10 certificates of merit from the Ho Chi Minh City People's Committee to artists and producer.
Written by Huy Thanh who was honored with the noble title "People Artist", Cao Duc Truong and famous writer Pham Thuy Nhan, the film tells the story of King Quang Trung and his Tay Son troop, in which they defeated 200,000 Chinese Qing soldiers in Ngoc Hoi-Dong Da, suburban area of Thang Long (an old name of Hanoi) in 1789. It is one of the nation's most remarkable and remembered historical moments
The film star Ly Hung and Miss Vietnam Universal 2008 Thuy Lam played in the main roles of King Quang Trung and his wife Princess Le Ngoc Han of Le dynasty.
Princess Le Ngoc Han was a daughter of Le Hien Tong, a talented and beautiful woman who married the national hero Nguyen Hue when she was 16 years old. The marriage led to the peaceful unification of the central Tay Son and northern Le dynasties.
Nguyen Hue became Emperor Quang Trung in 1788 and passed away in 1792. Queen Ngoc Han followed him seven years later when she was just 29 years old.
The film's release will also mark the 1000th anniversary of the founding of Thang Long-Hanoi.