For years, Tet Lunar New Year Festival has been peak business season for film production companies, with turnover in tens of billions of dong.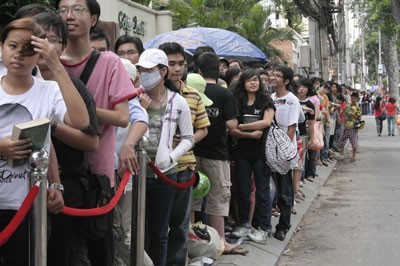 Young viewers queuing for a good film at Galaxy Theater last year
This year producers are thrilled with the release of at least five films during the Tet holidays, namely, Nha co 5 nang tien ( House with five fairies) by director Tran Ngoc Giau, Song Vang Production, Century Star; My nhan ke ( Beauty Trap) by director Nguyen Quang Dung, Galaxy; Bay vao coi mong ( Fly into a dream)  by director Phuong Dien and HK , VT Pro and Rang Dong Producer; Lo lem Saigon (Cinderella in Saigon) by directors Kim Guk Jin-Do Mai Nhat Tuan and Meganex Media and Hoang Than Tai Producer; Ieu anh, em zam hok? (Love Me! Do You Dare?) by director Nguyen Quang Minh and producer Phuoc Sang.
In addition, another film Hit Hoang tu va Lo Lem (Prince and Cinderella) will be released in theaters on the first day of the lunar calendar on February 10. The film producer has shocked many people in the film fraternity for making the film in only 40 days--a real record in the film world.
Accordingly, the number of films shown during the Tet holiday season will be equivalent to last year with the participation of some new producers such as Rang Dong and Song Vang.
However, media is paying more attention to the content of these films. Most films selected for Tet will have comedy with famous actors and actresses. Explaining this choice of selection, a producer said businesspeople have to indulge viewers' taste to make big profits.
Last years film profits were VND80 billion (US$3,841,282). The film 'Hello Co Ba' (Hello Ms. Ba) by Phuoc Sang collected VND35 billion ($1,680,672) and 'Thien menh anh hung' collected VND25 billion.

According to people, film maker Phuoc Sang made VND10 billion from Hello Co Ba, while the 'Thien Menh anh hung' producer failed to make profits as desired because they spent around VND25 billion for making the film, excluding overheads.
Learning from the experience of the 'Thien menh anh Hung' producer, this year no producer paid more than VND8 billion for a film except for 'Beauty Trap' by director Nguyen Quang Dung who believes strongly they can make profits in films with many stars and media publicity.
Dung did achieve some success. His film 'Nu hon than chet' (Kiss of death) with investment of VND5 billion, earned VND16 billion.
In addition, producers in the country face difficulties in making films as they have no close relationship with theaters like Megastar, Galaxy, Lotte or BHD. Support of theater owners plays an important role in the success of a film during Tet holiday season. Only 'Beauty Trap' and 'Prince and Cinderella' have the support of theater owners this year.