The film project 'Tay Son hao kiet' ('Tay Son Dynasty's heroes') will start shooting on March 7, a spokesperson announced February 28. This is one of various activities by the city's artistes to celebrate the 1000th anniversary of Thang Long – Ha Noi.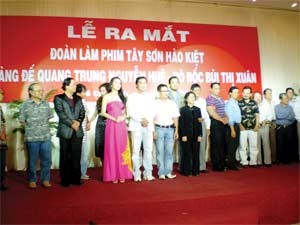 The cast of 'Tay Son hao kiet' at the press conference February 28 (Photo: SGGP)
The motion picture will have a cast of more than 40 actors and actresses, together with hundreds of martial artists and tens of hundreds of extras. 
The film is co-produced by Ly Huynh Film, Thanh Nien Film, Saigon Vafaco, Hai Dang Co. and HCMC Cinema Association. 
When asked about bringing back the image of legendary hero Quang Trung King, the 'Meritorious Artiste' Ly Huynh, producer and director for project, said, "This year we chose to make a movie about Quang Trung King and his achievements, with the expectation to bring the history, via animated pictures, to the young. This is a better way to teach them about history and they will learn somewhat from it. 
"This is also one of the [many] activities we are carrying out to commemorate the 1000th anniversary of the founding of the ancient capital Thang Long [now] Ha Noi for 2010." 
The filming project will also be co-directed by some well-known local directors, like 'Meritorious Artiste' Huynh Thanh and Phuong Hoang. 
The film will tell a story about the life of Quang Trung King, his relationships with his soldiers and love of Princess Ngoc Han. 
Actor Ly Hung will play Quang Trung King, while Miss Universe Vietnam 2008 Thuy Lam will play Princess Ngoc Han.  
Other top actors and actress involved are: Cong Hau, The Anh, Ly Huynh, Hung Minh, and Ly Huong.  
The shooting will visit many places across the country, like the southeastern province of Binh Duong, south central coastal province of Binh Dinh and Hue – administrative city of Thua Thien Hue Province. 
The budget for the project is approximately VND10 billion ($571,400).