Vietnamese film week, including feature films, documentaries and animations will be held in Ha Noi and Ho Chi Minh City from July 25 to August 1 in celebration of the 60th anniversary of Dead and Wounded Soldier Day.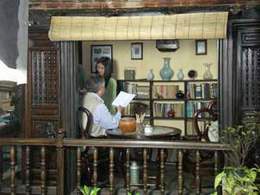 A scene in the film "Life passes in the blink of an eye".
Features films include Chop mat cung so phan
(Life passes

in the blink

of an

eye)

, and Vang trang cua dat (The moon of the land) and others.

Documentaries are Bai ca tren dinh Ta Lung (The song on Ta Lung mountaintop), Buc tuong dai vinh cuu (Eternal statue), Mot ban tay hai cuoc doi (One hand and two lives) and Loi nhan gui (Message), etc.

Audiences can contact the National Cinema Center and Megastar cinemas in Ha Noi, Thang Long Cinema in HCMC, or contact www.saigonmedia.com.vn for free entry tickets.