The Cinema Department will present Vietnamese Film Week at the National Cinema Center in Ha Noi over March 6-10. It will be held to celebrate the 90th year of the Russian State Institute of Cinematography (VGIK) (September 1, 1919).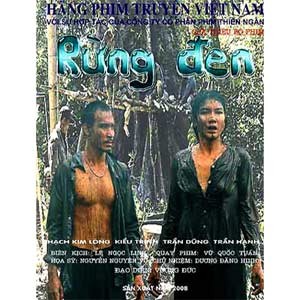 A poster for 'Rung den'
The films chosen were made by Vietnamese students who had studied at the VGIK.  
The film director Vuong Duc, will have his movie, 'Rung Den' ('Black forest'), screened March 9.  
The film tells the story of a family who earn money from cutting trees and the difficulties each of them have when they leave the family to go elsewhere.
On the same day, the comedy 'Thi tran yen tinh' ('A quite town'), directed by Le Duc Tien and scripted by Doan Truc Quynh, will be screened at the Center, too. The film criticizes the system based on subsidies for state owned enterprises in Vietnam.  
The third movie presented on March 9 is a collaboration between 'People's Artiste' Bui Dinh Hac and the scriptwriter Nguyen Thi Hong Ngat. The movie, 'Ha Noi 12 ngay dem' ('Ha Noi in 12 days and nights'), pictures the battles in late December 1972 and Ha Noi's fight against the Americans, which later ended with the immortal victory 'Dien Bien Phu'.  
Two movies scheduled to be screened on the following day are: 
'Giai han' ('Relieve themselves of their run of bad luck'), directed by Vu Xuan Hung and scripted by Trinh Thanh Nha, tells the story of the sad life of a weaver girl, Trien, and her difficulty finding happiness.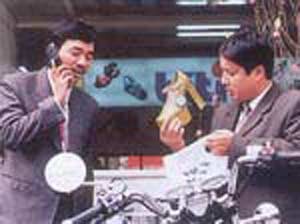 A scene from 'Tet nay ai den xong nha'
The comedy 'Tet nay ai den xong nha' ('Who will visit our house on the first day of this Tet'), directed by Tran Luc and scripted by Le Ngoc Minh, is a light-hearted alternative about the ways a 40 year old architect tries to find his happiness.
Besides works by former students of VGIK, the week also presents a few films by the current crop of students.  
The works are 'Gach' ('Stone') and 'Di ve noi hoang da' ('Go toward the wild place') to be screened on March 6, 'Doan khuc' ('Short melody') March 7, 'Bong roi' ('Shadow of the fear') and 'Mat na' ('The mask') March 9. 
During the week, a delegation from the VGIK will visit and work with students at the invitation of the Ministry of Culture, Sports and Tourism.  
The delegation will led by Prof. Malyshev Vladimir, principle of  VGIK, Prof. Kleymenova Olga, director of the Screenplay and Film Research Department at VGIK, and two teachers, Prof. Sergei Alimov and Prof. Vadim Abdrashitov.  
The Cinema Department also plans to hold an exhibition of paintings by Vietnamese students of VGIK and some photos capturing moments of Vietnamese students time at VGIK.  
For tickets or further information, please contact the Cinema Department: 147 Hoang Hoa Tham St., Ha Noi or the National Cinema Center: 87 Lang Ha St., Ha Noi.