The filming of "Pinkville", a movie concerning the 1968 My Lai massacre in Quang Ngai province directed by Oliver Stone, has halted due to a disagreement between Stone and lead actor Bruce Willis.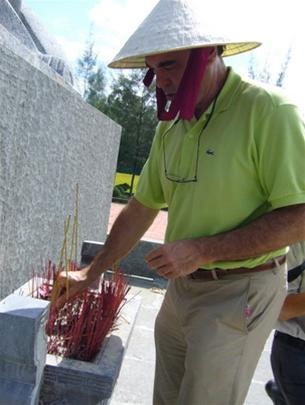 Oliver Stone burns incenses in remembrance of My Lai massacre victims in Son My village in Quang Ngai province September 2007
Willis and Stone disagreed on a minor change of script initiated by technical assistant Le Ly Hayslip, Hayslip said. Hayslip is in charge of costumes and props for the movie. Willis decided to quit, which caused United Artists, the sponsor of the film, to withdraw support.
It is a pity that "Pinkville" could not be screened on March 16, the 40th anniversary of the My Lai massacre, as planned, Hayslip said.
Last August, Stone had a deal with United Artists and Tom Cruise to provide "Pinkville" with a budget of US$40 million. Stone then began shooting the film in Thailand.
Willis played U.S. Army Gen. William R. Peers, who supervised the investigation into the massacre by U.S. soldiers of as many as 500 Vietnamese, most of them unarmed women, children, and elderly.
"Pinkville" would be the fourth time Stone has directed a film set against the backdrop of the Viet Nam War, including Oscar winner "Platoon," "Heaven and Earth" and "Born on the Fourth of July."
"Heaven and Earth", released in 1993, is based on a book Hayslip wrote about her experiences during and after the Viet Nam War.
Related story:
Oliver Stone Comes Back Viet Nam for "Pinkville"