Having already been chosen, the top 36 winners in the southern regions took part in the first final examination of the Sao Mai Diem Hen (Morning Star Rendezvous) 2007 music contest at the Ben Thanh Theater in Ho Chi Minh City yesterday. The judges of the contest will whittle the contestants down to the top 9 for the final rounds at the coastal city of Nha Trang in June.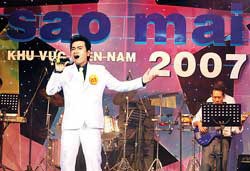 Candidate Tran Duy Linh performs in the final examination.
The Sao Mai Diem Hen music contest was first organized by Viet Nam Television in 2004 and achieved great success.

It is an occasion for young, talented singers to show their talent in fields of folk-song, opera, pop, rock, etc. It is regarded as one of the biggest national music contests.
The candidates of the final examinations, which last to May 27, will come from the southern provinces including Ho Chi Minh City,  Vung Tau, Tay Ninh, Dong Nai, Binh Duong, Can Tho and others.