After appearing in traditional dress, evening dress and swimsuits for a semifinal round held at the Event Hall in at Vinpearl Land in Nha Trang on Sunday, 20 beauties were selected for the final round of Miss Universe 2008.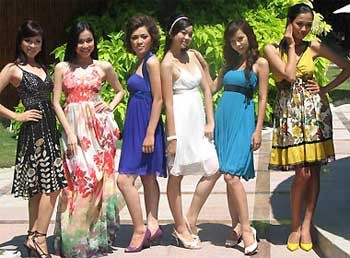 Vietnamese beauties in the Miss Universe 2008
Among the finalists are models Vu Nguyen Ha Anh, Vo Hoang Yen, Hoang Khanh Ngoc and singer Nguyen Thuy Lam.

The young beauties will be spending a week in and around a resort on Tre Island in Khanh Hoa province. Though every contestant is vying for the main title, there are also the titles of Miss Photo, Miss Sea, Miss Talent to be won.

As part of their social engagements, the contestants will visit Nha Trang and plant trees in the city.