A painting exhibition by Vo Trinh Bien, a famous Vietnamese finger-painting artist opened at the exhibition hall in Hoa Binh Square in Da Lat City on January 8.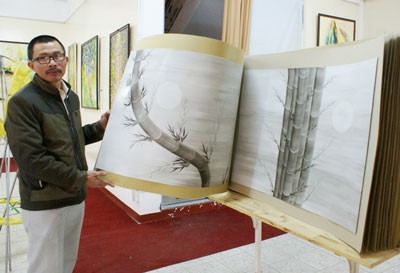 Painter Vo Trinh Bien introduces two painting books.
The display presents to viewers 59 pictures which were selected from more than 100 oil paintings and created in 2013.
On the occasion, the painter also introduces two painting books, measuring 90x110 cm of each.
The artist displayed a 200-kg calligraphy book of Binh Ngo Dai Cao, a famous Vietnamese manifesto marking the 1000th anniversary of Thang Long-Hanoi in 2010.
Having a passion for art since childhood, Vo Trinh Bien explored a new style of drawing by fingers. He has launched few exhibitions which attracted local and foreign visitors. Some of his art works have been displayed in Vietnam Fine Art Museum.
Some paintings are displayed in the exhibition: