'Book Fair 2013', which will be held from March 27-31 at the HCMC Exhibition House on 92 Le Thanh Ton Street in District 1, will provide an opportunity for readers to purchase books directly from publishers and a place where writers can hold exchange talks with readers and catch up on current reading trends.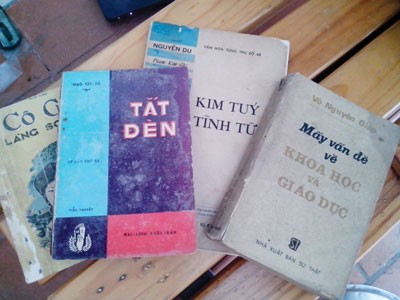 Some precious books displayed in the fair (Photo: SGGP)
The Book Fair is being organized by Nha Nam Publishing House in coordination with other large publishing houses such as First News, Phuong Nam, Chibooks, Van Viet, Alphabooks, Dinh Ty, Bach Viet, Van Chuong, Dong a. Quang Van. Though this fair will not be as big as other book fairs held during the year, it has its own characteristics.
As it is the first book fair of the year, publishing houses are trying to display good books to make an impression on readers.
Nha Nam displayed the comic book 'Phe Nhu Con Te Te' by Cao Phong. This is a new version of 'Sat Thu Dau Mung Mu' (Hitman with Wounded, Swollen Head), a controversial comic book which was published in September 2011 by Nha Nam.
Drawing from their previous experience, the new version has been published after consultations with well-known linguists and cultural experts, including Professor Van Nhu Cuong, Professor Pham Van Tinh, Professor Hoang Dung, critic Pham Xuan Nguyen. All agreed that the book is a folklore collection of popular idioms for modern day generation.
Meanwhile First News, who is known for life skill books, showcased 'Hector's Voyage or Search for Happiness' about a French psychiatrist traveling the world in search of the cause and meaning of happiness.
The most anticipated book at the fair is 'The Casual Vacancy' by British writer J. K. Rowling. This is Rowling's first publication after the Harry Potter series and her first novel for adult readers.
There is a special section in the fair for sale of around 1,000 old books at only VND30,000-40,000 ($1.4-1.9); some of them are priced at VND5,000-10,000 ($0.2-0.5).
In addition, the fair also has a section for auction of precious books, where readers can find a newspaper published in 1940 with the picture on the cover drawn by famous artist To Ngoc Van or Su That Newspaper edition of 1945, Love Song book of famous song writer Trinh Cong Son with his signature, etc. The prices of rare books begins from VND200,000-400,000 ($9.6-19). The auction will start at 4pm on March 30.
Exchange talks between authors, publishers are also a highlight of the fair.  Authors Phan y Yen and Khai Tam will talk about their book with readers on March 28. Later on March 31, doctor and psychiatrist Lam Hieu Minh who revised 'Hectors Voyage or Search for Happiness' will discuss with readers the concept of happiness.