The first ever festival for the blind opened in Hanoi on April 17 to honour the blind's contribution to the society as well as encourage them to continue dedicate to the country's development.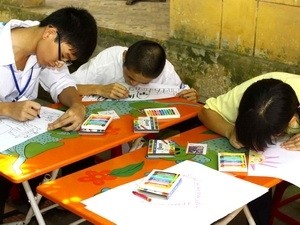 Blind students at a painting contest of the festival (Source: VNA)
The event, jointly held by the Hanoi chapters of the Ho Chi Minh Communist Youth Union (HCMCYU) and the Vietnam Blind Association, drew the participation of more than 1,000 students and youngsters from 10 universities in the city.
The festival, themed "Belief and Light" aims to celebrate the 42 nd founding anniversary of the VBA and respond to Vietnam Disabled Day.
Speaking at the event, National Assembly Vice Chairman Uong Chu Luu spoke highly of the organisation of the festival and said he wished the city's relevant agencies and organisations will continue to support the blind in education, vocational training and job seeking. He stressed the capital residents will always create favourable conditions for disabled people and expressed his hope the blind in particular and the disabled in general will overcome complex about their situation to actively take part in social activities and find themselves suitable jobs.
12,000 blind people are now living in Hanoi , many of who are sole models in efforts to overcome difficulties and contribute to the development of the society.
However, the blind in general still encounter difficulties in studying, daily life, job seeking and marriage to lead a stable life.
The festival is hoped to help reduce discrimination against the disabled and raise the youth's awareness to the disabled, which are important factors to help them to better themselves in their life and further contribute to the community.