For the first time, the Department of Performing Arts and the Vietnam National Academy of Music have coordinated with other agencies to launch a guitar competition in Hanoi from October 21-28.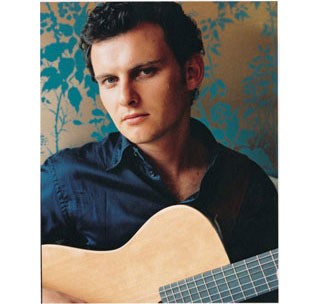 Australian classical guitarists Slava Grigoryan will hold an exchange with competitors
The competition is open to Vietnamese nationals in three age groups, namely, Group A for people under 13, Group B for people from 13 to 16 and Group C for people from 17 to 30 years of age.
The competition organizers have invited two internationally famous Australian and Italian guitarists, Slava Grigoryan and Ermanno Bottiglieri, to hold an exchange with audiences and participants.
Le Toan, director of the Vietnam National Academy of Music, said at the press briefing that the competition will be organized twice a year in a bid to find young talented guitarists who will then participate in regional and world competitions.
In related news, famed Dutch conductor Jan Stulen will take the baton to deliver masterpieces of Brahms, Schubert and Bizet at the Ho Chi Minh City Opera House on November 27 with the participation of the City Ballet Symphony Orchestra and Opera.
Jan Stulen's classical concert themed 'Nurturing Music Talent of Tomorrow' is being organized by the Consulate General of Netherlands and the Dutch Business Association in Vietnam.
In addition to holding a week-long series of conductor master classes for winners of the talent competition 'So You Want to be a Conductor', Stulen will also be presenting a workshop for business professionals on November 23, centered on similarities between conducting an orchestra and business leadership, using music as a metaphor.
Born in 1942 in Amsterdam, Stulen conducted his first public orchestra at the age of 19, and went on to direct numerous prestigious orchestras, including the Holland Symphonia and Deutsche Kammer Orchester Frankfurt.
Stulen is permanent conductor of L'Orchestra Particolare, artistic advisor for the Nationale Reisopera in the Netherlands, and head professor at the Conservatories of Maastricht and Rotterdam. He has conducted highly reviewed performances in Europe, Egypt, South Korea and Thailand.