LAM DONG (VNS)— The chill in the Central Highland city of Da Lat will be warmed by flowers and festivities this New Year holiday, during the Da Lat Culture Tourism Week 2013.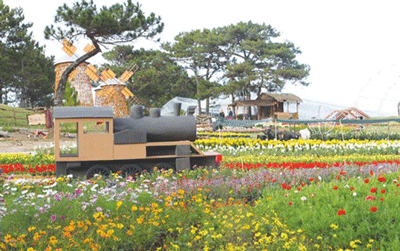 Local authorities in Central Highlands city of Da Lat prepare for the Flower Festival held in the city (Photo:VNA)
"Unlike the annual Flower Festival, this year the week includes three big remarkable events, namely the 120th anniversary of Da Lat City, the 5th national flower festival and the announcement of the national tourism year 2014 with the key destinations of Central Highlands and Da Lat," Vo Ngoc Hiep, chairman of Da Lat's People's Committee, told Viet Nam News.
"That's why all the activities throughout the city will aim to show off the tourism potential of Da Lat City and Central Highlands region as well as the local flower industry," he said.
The opening ceremony of the tourism week will be held tomorrow night at Lam Vien Square.
According to the organisers, the Flower Festival will be a key topic during the week. Flowers and bonsai will decorate main tourism sites like Xuan Huong Lake, Prenn Waterfall and downtown streets.
Hiep noted that annual flower festivals had a positive effect on local socio-economics. "In 2005, the first flower festival brought 1.6 million visitors to the city, while this year [the 5th festival], the number of tourists may reach 3.4 million people," Hiep said.
Hiep said local tourism authorities had organised training courses to improve service quality at local restaurants and hotels, who are then encouraged to offer best services at reasonable prices.
Da Lat has 11,000 rooms that can host up to 25,000 guests per night, he said.
He further added that the city, which is also known as the "kingdom of flowers", now hosts 60 flower-growing enterprises, which plant flowers on a total area of 3,500ha.
The average income that locals get from 1ha of flowers is around VND1 billion (US$450,000) while the income from 1ha of strawberries is VND100 million.
National tourism year
"Right on the opening ceremony, the Ministry of Culture, Sports and Tourism will announce the national tourism year 2014 with the theme 'Central Highlands - Great Jungle'," said Nguyen Thi Nguyen, deputy director of the Lam Dong Culture, Sports and Tourism Department.
The opening ceremony tomorrow night will be broadcast live on Viet Nam Television's VTV1 and VTV4 channels.
A series of tourism promotion activities will be held throughout next year, including a traditional brocade-weaving festival, traditional costumes show, a national chess tournament, traditional instruments festival, food festival, sport-culture festival and international gongs festival.
The events will be organised by the culture ministry and host the provinces of Lam Dong, Dak Lak, Dak Nong, Gia Lai and Kon Tum.
Various new tours will be designed for tourists to Central Highlands such as Jungle Tours to Madagui Forest, Dambri Waterfall, Pongour Waterfall, Tuyen Lam Lake, Langbiang Mountain; sport tours to Da Lat Golf; tours following the footprints of French biologist Alexandre Yersin, who discovered the Langbiang plateau in 1893.
The key destination for this year was the Hong (Red) River Delta, which attracted 35 million tourists, a 15 per cent increase over last year. It brought a revenue of VND35 trillion ($1.66 billion), up 16 per cent year-on-year.