Art lovers who wish to see masterpieces of famous artists in the Louvre Museum in France or museums across the world don't have to go far, as abundant reproductions of their artworks are part of a flourishing market in Ho Chi Minh City.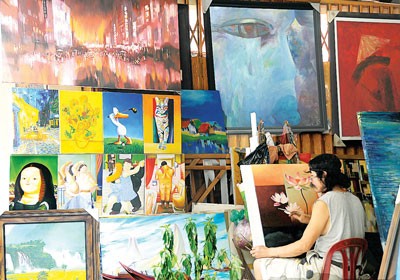 A reproduction gallery on Pham Ngu Lao Street in District 1 in HCMC (Photo: SGGP)
Along Dong Khoi, Nguyen Hue, De Tham, Bui Vien, Pham Ngu Lao, Nguyen Van Troi and Tran Phu Streets in HCMC, numerous art galleries offer a variety of reproductions of famous painters.
Several talented artists in the country can reproduce any masterpiece of an internationally famous painter of the Renaissance period such as Leonardo de Vinci, Goya; neoclassic Ingress or Théodore Géricault, a representative of Romantic art; impressionist painters like Claude Monet, Renoir, Sisley; Post-Impressionist painter Van Gogh and many more.
Although they are reproductions, they retain well the vividness and charm of the original that satisfy the essence of the masterpiece itself.
Toan, an assistant in a gallery on Dong Khoi Street in District 1 reproduced Van Gogh's Night Café at a price of VND1.5 million (US$72) but priced Isaac Ilyich Levitan's Autumn Day for VND3 million ($144), as the latter has a difficult lay-out and tricky color, Toan explained.
However, a gallery on Tran Phu Street in District 5 said two same pictures can have the price from VND500,000 to VND1 million. Similarly, Leonard de Vinci's Mona Lisa was half the price on Nguyen Van Troi Street compared to Dong Khoi Street.
With prices highly competitive in galleries, Nhung Nguyen, from the southern province of Ba Ria-Vung Tau decided to buy where the prices were the cheapest for reproductions. Galleries give picture copies to art lovers within one week.
The reproduction market has developed rapidly in the last 10 years in the country. Earlier, many people were concerned of infringement of copyrights but now gallery owners said that many countries in the world run lucrative art reproduction businesses.
Another question arising is whether the mushrooming of reproduction galleries have a bad influence on the artistic taste of the public and enterprises to sell original art. Artist Tran Thi Thu Ha, an owner of Tu Do Gallery in District 1 said artistic pictures and pictures for decoration are two different aspects of art.
Reproduction pictures are only meant for decoration and these are bought by people with little knowledge of art, but those with a deeper knowledge of art will scoff at reproductions.