The flower wedding entitled "Journey to Happiness", part of the Da Lat Flower Festival 2007, is expected to attract 114 Vietnamese and foreign couples and will take place from December 14 to 17 in order to mark the 114th birthday of Da Lat City.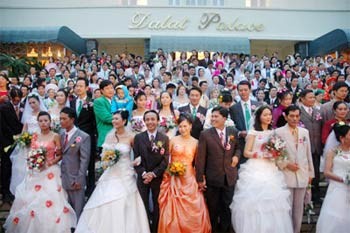 The flower wedding with attendance of nearly 100 couples took place in Da Lat flower festival 2005.
The married couples-to-be can register with the organization board in November and December to take part in the event later this year, after which a special congratulatory celebration entitled "Rose and Chocolate Festival Night" will be thrown in honor of the newly-weds.
The Da Lat Flower Festival 2007, organized by the Lam Dong Province every other year, will be held in Da Lat City and its adjacent districts from December 15 to the 22.
The show will include numerous interesting activities such as a Vespa Scooter festival named "Charming Vespa", Miss Viet Nam Ethnicities 2007, a flower caravan, music and fashion performances, an international flower fair, trade and cuisine fairs and many more.
At present, 750 hotels with 12,000 rooms and a 1,000-strong lodging house network are ready for the upcoming festival, according to the organizers.

The provincial leaders hope that the festival will appeal to an even larger number of local and foreign visitors than in previous years.