The '8th Folk Music Festival' titled "Melody of the country" opened at the Dai Dong Theatre in Ho Chi Minh City on May 7.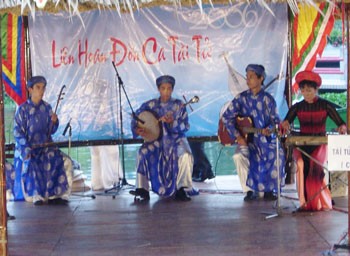 A performance of folk music. (Photo: KK)
The festival will attract 24 cultural centres from districts throughout the city that will feature more than 130 singing and dancing item numbers.
Veterans' Association of District 5, the Student's Cultural House and Youth Cultural House of Ho Chi Minh City have also joined the event.
The festival will run until May 11 and the final awards ceremony will take place at Cau Vong Stage on May 17.