A tourism and culture week themed "Legend of the Central Highlands Elephant" opened at Buon Ma Thuot City Square in the Central Highlands province of Dak Lak on December 16.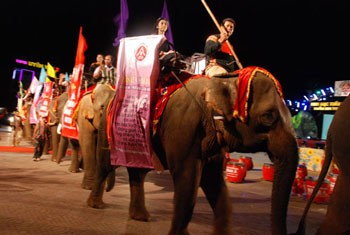 Elephant parade in the opening ceremony of the Buon Ma Thuot - Dak Lak tourism and culture week on December 16. (photo:TTO)
The opening ceremony began with a special performance featuring contemporary and Highland music by gong troupes from the ethnic Ede, M'nong, and J'rai groups. More than 500 artists and dancers took part in the show.
Earlier in the day, cultural activities kicked off including a food fair, street festival, and photo exhibitions titled "Highlands – Past and Present" and "Lyric Highlands."
The "Highlands – Past and Present" display introduces viewers to 150 pictures of Highlands culture and people from the colonial past to the present. The "Lyric Highlands" exhibit, meanwhile, showcases 52 works by photographer Lam Tu Khoa taken over eight years.
Other events happening throughout the week include a wood carving contest, trade fair, elephant race, and folk games.
The event aims to honor elephants, the most important animal to the Highlands people.
 
A project undertaken by the Dak Lak elephant preservation center will be implemented from 2010 to 2014 at a total investment of around VND58 billion (US$3 million), the provincial People's Committee announced at a seminar on December 15.
Under the project, the preservation center will care for elephants; launch policies to encourage and help elephant breeders in parturition; cooperate with international organizations to update technology; and train officials in preserving and taking care of elephants. The center is situated on more than 200 ha in YokDon national park.
The tourism and culture week marks the 105th anniversary of the establishment of Buon Ma Thuot City and is a chance for the province to introduce its achievements, tourism potential, and socio-economic development. The festival will run until December 20.

Related article:
http://www.saigon-gpdaily.com.vn/Culture_Art/2009/12/76948/