Footy Legends directed by 27-year-old Vietnamese Australian Do Khoa went down well with audiences when it premiered in 120 cinemas across Australia on August 3rd.
"Footy Legends is not a film about footy. It is a film about family, about friendship, about finding a place for yourself in the world. It is about realizing broken dreams and ambitions. It is about finding a way home", Khoa said.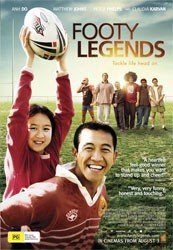 The poster of Footy Legends
His co-writer, co-producer and leading actor in the one-and-a-half-hour feature is Do Anh, a 28-year-old writer, actor and stand-up comedian who just happens to be the director's brother.

The pair spent three years writing, casting and filming before last week's successful premiere, which was attended by well-known Australian actors including Mathew Johns, Peter Phelps, Augus Samson and Claudia Karvan.

Do Khoa and his crew donated the AU$5,000 in first-night box office receipts to a fund for disadvantaged Vietnamese and Australian children that Khoa is actively involved in.

Set in the outer Sydney suburbs of Yagoona, Bankstown and Cabramatta, Footy Legends tells the story of Luc Vu (played by Do Anh), a Vietnamese Australian who has been looking for a job to support his 11-year-old sister Anne since their mother's death.

When the authorities threaten to take Anne away unless Luc gets a stable job, he calls on his mates for help.

Luc convinces them to play football again, the one thing that they've ever been good at, by entering the Holden Cup, a rugby league competition with a brand new Holden ute as first prize. Luc sees winning the competition as a way of keeping his family together.

With the help of his friends and his grandfather's encouragement, Luc and his team make every effort to win.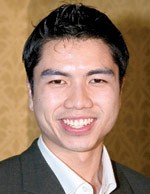 Vietnamese Australian director Do Khoa
"Footy Legends thus becomes a story not only about wining but also about restoring self respect. Do Khoa and co-writers have a tremendous talent for conveying emotional archetypes," says Alex James of Inside Film Magazine.

And from Nicola Harrison of ABC Radio: "Very funny, honest and touching and I absolutely loved Footy Legends."

Do Khoa was born in Viet Nam in 1979 and moved to Australia in 1983. He won a scholarship to St. Aloysius College and went on to study arts-law at the University of Sydney.

Do Khoa is an exceptional young Australian. As a writer, director, actor and teacher he has carved an impressive niche for himself in the Australian film industry.

He has won several prizes, including the Young Vietnamese-Australian of the Year in 2000, Bankstown's Young Citizen of the Year in 2002, the Centenary Medal in 2003, and Young Australian of the Year in 2005.

From 1999 until 2004, Khoa worked as a volunteer for the charity Open Family Australia in Cabramatta.