Three foreign pupils of Doan Thi Diem School in Ha Noi have surprised their classmates, teachers and parents by winning the regional round of a competition to recite a story about the revolutionary leader Ho Chi Minh.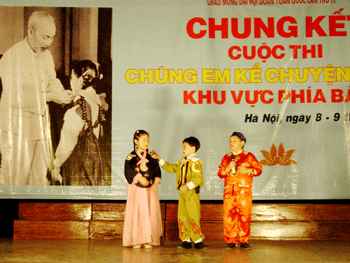 (From L) Cho Ye Ji, Arthur Viet Anh Moraux and La Tuan Duy perform on the stage (Photo:Mai An)
Fourth-grader Cho Ye Ji from Korea, third-grader La Tuan Duy from China and second-grader Arthur Viet Anh Moraux from Belgium won "second prizes" for their renditions of the famous tale about Uncle Ho and the apple.
They will compete in the national final in the central region next month.
The teacher who directs the communist youth league activities at the school describes the three winners as excellent students who are much loved by their classmates and teachers.
Cho Ye Ji's familiarity with the life of Ho Chi Minh began at a very early age when her grandmother would tell her bedtime stories about the communist party founder and later president of Viet Nam.
Her granny was also directly involved in the competition as it was she who had made the dress for her grandchild to wear when she stood before the judges and delivered her prize-winning performance.
La Duy Tuan had it even easier as his Vietnamese grandfather on his mother's side and his Chinese grandfather on his father's side had both told him many stories of Ho Chi Minh.
In fact, Tuan told a reporter, his paternal granddad had once met Uncle Ho and conversed with him in Chinese, and tales of Ho Chi Minh were still told at family meals.
Viet Anh, the youngest winner, learned about the political leader through poems and through stories told by his teachers on class visits to Ho Chi Minh's mausoleum in Ha Noi.
When it came time to pick the contestants, little Viet Anh was worried he would miss out as the other two eventual winners were so loud in their praise of Ho Chi Minh all the time. He got around this by doing the same thing, interrupting a lot, and getting the attention he needed to be picked for the contest.
All three rehearsed for ten days before the local final, all the while maintaining their busy study schedule.
Even before they faced the judges, says Cho Ye Ji, they felt under pressure as they would be representing all foreign pupils in the competition. Fortunately they had lots of help and encouragement from their teachers and classmates.
Children are normally all too eager to show off prizes they have won but not in this case. La Tuan Duy explains that his goal was not to win but simply "to perform well on behalf of international children and thereby show the love we all feel for Uncle Ho".
More than that, Duy adds that he has found spiritual meaning through the competition and listening to moving tales about Ho Chi Minh.
Before the competition he would do his homework as quickly as possible so as to have more time for playing games online, but now he is more interested in learning as much as he can about Uncle Ho and his extraordinary life.