"Return to Vietnam," a BBC documentary about a Vietnamese English orphan's first return to her homeland after 35 years, aired March 31 on BBC channels throughout England.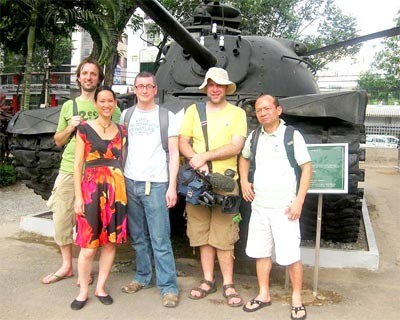 Viktoria Cowley poses with the BBC film crew at the War Remnants Museum in Ho Chi Minh City (Photo: SGGP)
It tells the emotional journey of Viktoria Cowley to Vietnam where she seeks information on her biological family.
 
Ms. Cowley was one of 99 orphans flown to England from war-torn Vietnam in 1975 as part of a mass evacuation of children to other countries called Operation Babylift.
 
She was just 18 months old at the time and believes that her birth mother was still alive when she left the country.
 
Ms. Cowley was then raised by her adoptive family in Eastbourne, Sussex, England.
 
Upon her return to Vietnam, the film records her visits to Lam Ty Ni orphanage, where she and an elder brother spent their last days in Vietnam, as well as the Go Vap and Thi Nghe centers for disabled and orphaned children.
 
Ms. Cowley also visits the War Remnants Museum, Reunification Hall, and Post Office in Ho Chi Minh City.
 
She has never known her original given name as she was re-named Lam Yen Hang at the orphanage.
 
One of the few insights Ms. Cowley gains into her past comes from a former orphanage worker who recalls Ms. Cowley's mother bringing her baby in because her husband had died and she was very poor.

Though the information was scant, Ms. Cowley says it still gave her peace of mind.

"I'm very grateful to my birth mother. She left me in a safe place where I could have the opportunity of a very full life. I can't ask for anything more," she said.

Speaking in the film, Ms. Cowley said, "I hope to have an opportunity to meet all other babylift orphans from the flight to hear their stories, to learn how much they know about [their past], and about the flight [which flew us to England].
 
Miss Cowley added that she continues to work relentlessly, sending out emails in the hope of contacting other Vietnamese former orphans both in England and around the world.
 
"Return to Vietnam"  was filmed on January 5-16, 2010 and was first screened in southern England on March 22. It is scheduled to air on BBC channels across Asia and the US in the near future.