Many guests invited by Foster's Vietnam to a Formula One Race party in Ho Chi Minh City lived in an F1 exciting atmosphere.
An F1 fan hugs her boyfriend at Arena Bar to share her happiness watching the F1 race on April 2 (Photo: Tuong Thuy)
The party  was organized Brewer Foster's Vietnam on Sunday April 2, 2006 at Arena Bar, 102 Nam Ky Khoi Nghia, District 1, to coincide with the F1 race under way in Melbourne, Australia. The guests were able to watch F1 live reports from Melbourne on the 135-inch screen and many smaller TV sets around the bar, played F1 games, and drank Foster's Draught.

Among the guests were many foreigners, who came with their friends for the weekend. Lots of the guests said they enjoyed the exciting atmosphere with exhilarating sound from the race.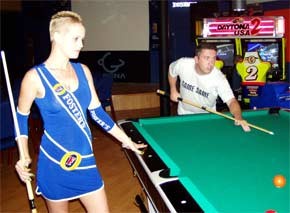 A guest plays snooker with a Foster promoter at Arena (Photo: Tuong Thuy)
Formula One is the highest level of international car racing. F1 cars are purpose-built, capable of extremely high speed and run on designated race tracks. They compete for the world championship by taking part in a series of important races, called "Grand Prix" in many countries. Foster, one of Australian most popular brewers, is the F1 official beer of the Grand Prix. 
In cooperation with its key outlets in Ho Chi Minh City, Foster's Vietnam has been organizing Formula One live reports from March to August 2006 at these places.
The next party will be on April 23 for the race in San Mario at 2 pm (7 pm Viet Nam time), followed by the May 7 and May 14 races in Europe – also at 7 pm Viet Nam time. 
Formula One has a large number of fans and has become inspiration for many movies, computer games around the world, but the sport is still quite new in Viet Nam. Foster's has been associated with Formula One for over 20 years.  

Link
Formula One