Four contestants received their "boarding passes" to fly into the final of a music contest for students, "Tieng ca hoc duong" (Student's Singing Voice), it was announced on July 4.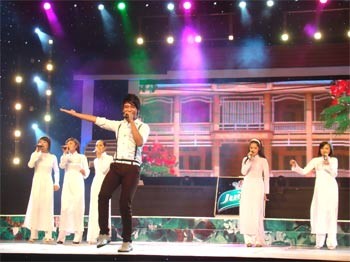 Bach Cong Khanh performing "Ngoi truong dau yeu" (Beloved school) by Ngo Anh Huy at the gala concert on July 3 (Photo: Courtesy of Cat Tien Sa Media)
The four students selected for the final, who will perform at the Lan Anh Music Club in District 10, HCM City, on July 5, are Bach Cong Khanh, Luu Hien Trinh, Le Thai Son and Tieu Chau Nhu Quynh. 
 
Every contestant will choose two songs to perform, with at least one song not having been performed in previous shows.
 
There are two prizes, one selected by the jury and another by the audience.
 
The winner of the jury prize will win: VND25 million (US$1,380) followed by the runner up with VND15 million ($830). Two second runner-ups will be rewarded VND10 million ($550) each.
 
The audience prize is also worth VND25 million.
 
There are also four smaller prizes for audience prize winners from the four previous shows. Each prize is worth VND4 million ($220)

The performance will be broadcast live on HTV9.
 
Earlier, on July 3, 12 contestants had a gala concert, "Hat duoi anh mat troi" (Singing underneath the sunlight), at the club. 
 
"Tieng ca hoc duong" is held annually, with contestants aged 13 to 19 years old.
 
This year's contest included two qualifying rounds on June 4 and 7 to select 12 contestants to enter four semi-finals on June 24, 25, 26 and July 1.