The Vietnam Musicians Association held the 2009 Music Award Ceremony in Ho Chi Minh City on January 15, giving out five first prizes to artists in different categories.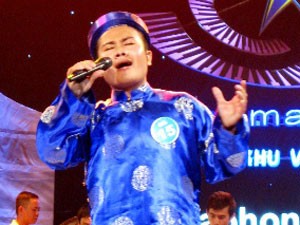 Nguyen Ngoc Ky sings "Doi Do Ngan Nam" (One-Thousand-Year Relocated Capital) at the finale of the 2009 Music Awards Ceremony in HCMC. (Photo: Hanoimoi)
Composer Tran Manh Hung won two of the five prizes for his moving poetic symphony, Le Chi Vien (Le Chi Garden) and the song "Giac Mo Mua La" (Dream of Falling Leaves).
The other first prizes were given to Nguyen Tien of Hanoi for his song "Doi Do Ngan Nam" (One-Thousand-Year Relocated Capital); Ngo Quoc Tinh of Hanoi for his romantic ballad "Dong Trang lung lieng" (The stream of Moonlight); and Truong Dinh Quang of Da Nang for a compilation of bai choi folk singing.
According to a representative from the association, the award-winning composers were chosen based on the creativeness of their compositions. However, more composers should take an interest in children's songs, folk music, traditional music, and community songs, he added.
This year, the association awarded more than 60 other prizes in various categories.