France's Ile-de-France region is set to technically assist Ha Noi in preserving the latter's cultural relics in an effort to promote tourism in the Vietnamese capital and its adjacent areas in 2007 – 2010.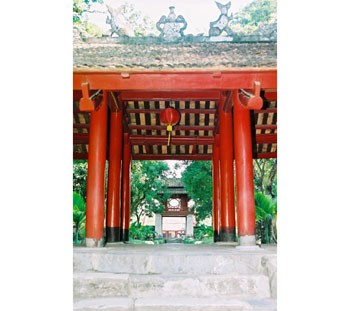 Van Mieu Quoc Tu Giam (the Temple of Literature and country's first University)
According to the Ha Noi Department of Tourism, French experts are to help Viet Nam seek UNESCO recognition of Ha Noi's Thang Long Royal Citadel as a World Cultural Heritage during the first stage of this two-phase support project.
In the second phase, experts from the two countries will join hands in drafting master plans to protect and promote tourism values for the capital's heritage sites and its vicinity including the famous Van Mieu - Quoc Tu Giam (the Temple of Literature and National University), the oldest university in Viet Nam.
Two experts from Ile-de-France have arrived in Ha Noi to make a survey of tourist spots such as the literature temple, the Thang Long Citadel, Co Loa ancient citadel and Ha Long Bay, already listed by UNESCO as a Cultural Heritage.