France's Nord Pas de Clais will contribute VND500 million toward upgrading and preserving five traditional wooden, 100-year-old Ruong houses in Hue City, according to the People's Committee of Thua Thien Hue Province.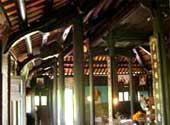 Ruong house are made with timber frame using mortice and tenon joints, and are roofed with brick tiles.
In addition to this support, the owners of these houses will invest an additional VND30-50 million for the restoration.
Hue's Ruong houses are made with timber frames using mortice and tenon joints, and are roofed with brick tiles. The whole house stands on big pillars placed on a round or square stone base. The home's frames and pillars are usually made from precious, solid wood, such as lim (iron wood), gu (sindora) and others,

These typical houses of Hue often use gardens to create a special architecture adhering to the rules of feng-shui. Due to the effects of weather, climate and an exploding population, they have been damaged in great numbers. There are now few Ruong houses in Hue.
The Nord Pas de Clais region will also finance VND7 billion to build the Ba Na Bird and Animal Park in Da Nang's Ba Na-Suoi Mo tourist area.

The project will be divided into two phases. The construction of roads in the first phase will spend around VND 433 million and the remaining funds will be invested in the second phase developing breeding and entertainment facilities, Mr.Nguyen Van Den, head of management board of Ba Na-Suoi Mo tourist area, said.