Vietnamese exhibitors at the first ASEAN Arts and Craft Festival at the end of November will pay nothing for the use of display space, the director of the Support Arts and Crafts International Centre of Thailand said.
The Support Arts and Crafts International Centre of Thailand  (Photo:sacict.net)
Khemadhat Sukondhasingha described the festival, which will be held at the Bangsai Arts and Crafts Training Centre, 50km from Bangkok, from November 29 to December 3, as "an exhibition for enterprises to establish a platform of cooperation for ASEAN arts and crafts."
It will give each country a chance to display its heritage and promote greater awareness, understanding and appreciation of the region's art, craft and culture through artistic collaboration and the exchange of information, he said.
The exhibitors will come from Brunei, Laos, Cambodia, Indonesia, Malaysia, Myanmar, Philippines, Singapore, Viet Nam and Thailand.
Its special features will include this year's winners of the UNESCO Seal of Excellence for Handicrafts, a pavilion representing craft villages in the region, a food market, cultural shows, seminars, a workshop and a Vietnamese water puppet show every day of the event.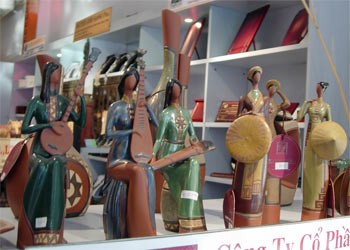 Vietnamese handicraft items (Photo:KK)
Besides free exhibition space, the organizers will sponsor national representatives to the tune of US$5-7 a day to subsidize transport and accommodation.
After receiving the application forms, the Support center will meet with the applicants and select exhibitors according to the following criteria: use of harmless materials, environment-friendly production, unique design, level of skill, and the existence of at least some copyright protection.
After the festival, the exhibitors can consign any unsold products to the center, which will try to sell the goods on their behalf.
Find out more at www.sacict.net or visit the Vietnam National Trade Fair and Advertising Company (Vinaxed) at 9 Dinh Le Street, Hoan Kiem District, Ha Noi or 51 Dong Khoi Street, District 1, Ho Chi Minh City.