Music lovers are in plenty in the country who enjoy musical performances, shows and skits in theaters and even tea lounges in Hanoi and Ho Chi Minh City.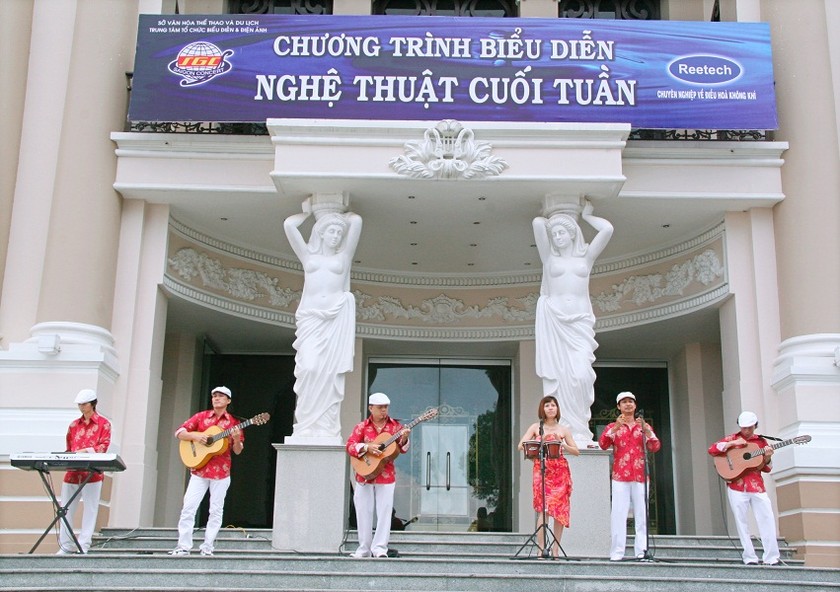 A flamenco music performance in front of the City Opera House
Recently singers and musical performance groups have been presenting free shows on City streets or in distant districts for a diverse musical audience.
These free street musical performances meet the demand of a large number of people who can't afford high priced tickets in theaters or high-end tea lounges or perhaps have to travel long distances from distant districts to catch up with a show in the City center.
Such open street shows also vet the appetite of amateur music lovers who are as yet learning trends and styles of the music world.  Die hard music lovers always want to serve fans and lovers of music of all class and ages as well as narrow the gap between artists and audience.
In Hanoi and Ho Chi Minh City, street concerts present traditional, academic and international music via a unique performing style. In Hanoi, star singers usually perform on Ly Thai To Street while musical lovers in HCMC can enjoy these concerts in front of the City Opera House, Youth Culture House, Tao Dan Culture Park, Park 23.9, Gia Dinh Park or the area around Saigon Notre-Dame Cathedral Basilica in downtown area of the City.
Street musical performances are effective in attracting a large number of people and introduce traditional, academic and international music trends to lovers. Such performances touch the hearts of young people and help improve their knowledge of culture.
Moreover, these performances can help young people become more sensitive and responsible in preserving and developing traditions and customs while also presenting revolutionary traditional songs to inspire love for their country.
By bringing music closer to the public and inspiring music lovers across the country, these performances are really a joy for many people who stroll out to enjoy the City on weekends and evenings.