Idecaf, the French Culture Center, is displaying sixty pieces of fifteen internationally renowned fashion illustrators from October 5th to the 15th.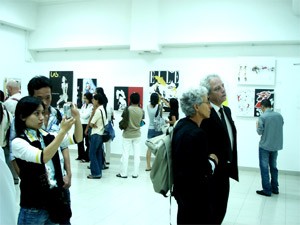 Art lovers enjoy the illustrations(Photo:U.Phuong)
The exhibit includes the works of Charles Anastase, Ludivine Billaud, Carlotta, Alexandra Compain- Tissier, Jean-Philippe Delhomme, Florence Deygas, Iris De Mouy, Felix Lahrer, Emmanuelle Mafille, Stephane Manel, Monsieur Z, Cassandre Montoriol, Nawel, Marie Perron and Cedric Rivrain.
The collection showcases their artistically diverse imaginations.
"The new style of illustration should transform the mental worlds and fantasies embodied by those objects into images while, in turn, each new image nourishes the next of fashions' ephemeral cycles," explained Cedric Morisset and Helene Convert, curators of "Traits tres mode".
Participating in the event are lecturer Mr. Jani Bourdais, the French cultural attaché, and numerous art lovers.

One of the illustrations exhibited in Idecaf (Photo:U.Phuong)
The illustrations will also be presented in Zen Plaza at the fashion show of the young Vietnamese designers who have just finished their course lectured by Professor Michele Torrione.