French musical day will take place at the HCM City-based Institute for Cultural Exchange with France (IDECAF) at 31 Thai Van Lung Street, District 1, at 6 pm on June 21.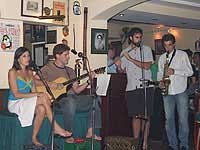 The Supercub
Initiated by Maurice Fleuret The free musical performance will feature acts by domestic and foreign bands such as AC&M, the Chouchen, jazz band Supercub, hip hop band Bigsouth, rock band Thorn Thorn student-singers from the Ho Chi Minh City's universities.

Initiated by Maurice Fleuret, director of Dance and Music in 1981, the Music Festival was first introduced in 1982. Every year, on this same day, in France and in many other places around the world many musicians, both debutants and experts wanting to perform, meet in public places across several different cities to play and mix music. Every style and genres is covered: jazz, rap, reggae, classical, tzigane, African and experimental.

The annual festival is not just a festival, but a sort of popular meeting for all music lovers who wish to spread and mix music and see it as a sign of the summer.
Today, the Music Festival represents some 20,000 free concerts throughout the world - over 120 countries and 450 cities now celebrate music on a yearly basis.