At the Fête de la Francophonie, electro reggae artiste Siméo will perform for one night at 6.30 pm March 27 at the French Cultural Exchange Institute (IDECAF), District 1, HCM City.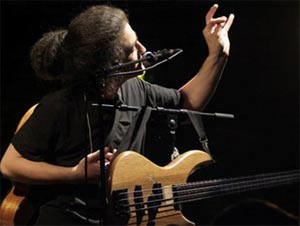 French musician and singer Siméo (Photo: Tuoi Tre Newspaper)
French musician and singer Simon Rochon, better known as Siméo, affectionately called the 'tangled-hair prince,' will kick-off a six nation Asian tour, Tournee Asie 09, at IDECAF (March 27) in HCM City .
Entrance is free; tickets can be had from IDECAF's box office.
The talented musician, proficient in both string and percussion instruments, was born in Lyon, France. Siméo embarked on his career at 19 years of age and has so far released two albums: Envie' and Les idees bleues.
In most of his 200 performances he is the lyricist, the singer and the instrumentalist.
After Vietnam, Siméo will visit Phnom Penh, Cambodia (March 29), Bangkok, Thailand (March 31), Brunei (April 4), Mandalay (April 9) and Yangon, Myanmar (April 11) and Dahka, Bangladesh (April 13).