The French rock band Merzhin will give a performance at the Youth Theater in Hanoi on June 20.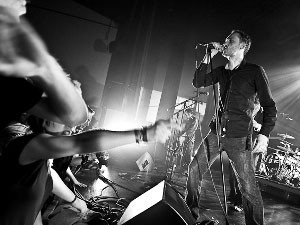 The Merzhin band
The concert is part of the group's tour of many countries including Laos, Philippines, Malaysia, Indonesia and Sri Lanka.
 
Meizhin will attract many rock music lovers with their ballads of mixed French folk songs and pure melodies. 
Merzhin is the most impressive band in France for their combination of rock and folk music.
The band has six members including Ludovic Berrou (trumpet, flute and clarinet), Damien Le Bras (guitar bass), Stéphane Omnes (electric guitar), Vincent L'Hour (electric guitar, acoustic), Jean Christophe Colliou (drums) and Pierre Le Bourdonnec (vocalist).

They have held more than 500 concerts across the globe and have sold over 200,000 albums in the last 10 years.
Tickets are priced at VND35, 000-VND100, 000 and are available at L'Espace, 24 Trang Tien Street and Youth Theater, 11 Ngo Thi Nham Street, Hanoi.