A documentary on the landscapes and typical customs in different regions across Vietnam has been broadcasted on French television.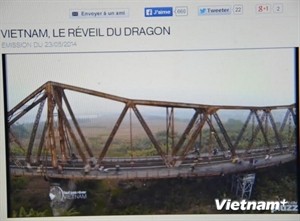 Hanoi's Long Bien bridge introduced in the programme (Source: VNA)
Through the programme "Faut pas rever" (No need to dream), reporter Tania Young took the viewers on a journey through the country.
They were provided with an insight into the living conditions of the Dao and Pa Then ethnic minority groups in the northern mountainous province of Ha Giang and the busy life of people living on Cai Be floating market in the Mekong Delta province of Tien Giang.
The programme also portrayed the daily life of locals in Hanoi and Ho Chi Minh City as well as the beauty of ancient temple and tomb complexes in Hue.
The Huong Pagoda Festival, the country's longest cultural event which takes place in Hanoi's My Duc district, and Ha Long Bay, a World Heritage Site in northern Quang Ninh province, were also introduced to the audiences in the two-hour documentary.