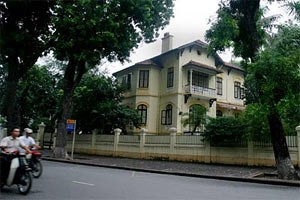 French villas add charm to Ha Noi's streets

"Build me a house in the French style" – that's the request architect Ho Thieu Tri, who recently returned from France, often gets from his clients. Famous for his work in Viet Nam, especially the renovation of Ha Noi's City Theater, Tri , together with his designs proves that there is still a demand for the French-style residence.



Streets with villas

Travelling along the streets of Ha Noi, visitors might find themselves in a quiet area, away from the traffic of thousands of cars and motorbikes.
Here the century-old lined trees cast shadows on the old closed gates and the sunlight spills through the vaults of green leaves and dances on the pavement. The crowded, noisy streets seem to be stopped before the yellow walls. All the street noise was absorbed by the ground and the leafy canopies. Unconsciously, drivers slow down to enjoy the cool air pervaded with dracontomelum and lichee flowers. The scene is soon chased away by the traffic. This is one of the rare streets, commonly known as "villa streets" or "French streets".
Ha Noi still has preserved most of the unique European architecture since the first houses with charming chimneys and beautiful dome windows were built around Sword Lake more than a hundred years ago.
Located in Ba Dinh are some of the most famous streets of French villas. Their names, like Phan Dinh Phung, Nguyen Canh Chan, Tran Phu, Le Hong Phong, Hoang Dieu and Dien Bien Phu streets, gives a feeling of peace and calm.
To the South of the Sword Lake are villas, along Hai Ba Trung, Ly Thuong Kiet, Tran Hung Dao and Nguyen Du streets. The two rare architectural communities joined by Ha Noi's most luxurious commercial centers of Trang Thi, Hang Khai, Trang Tien. To the east of the lake are public buildings of Lakeside Post Office, Grand Theater, Indochina Bank, Museum of History, Pasteur Institute, Metropole Hotel, and the streets of Ly Thai To, Ngo Quyen, and Phan Chu Trinh.
The French wanted to make Ha Noi a "miniature Paris in Indochina" soon after setting foot in Viet Nam at the end of the 19th century to relieve their homesickness. Their construction continued until the 1940s.
Mr. Tri, who spent many years in France, describes it as "a detailed and systematic community divided logically and scientifically". Ba Dinh District (to the south of West Lake) became the administrative center and many villas for high ranking officials were located a little down. What is now the Presidential Palace and headquarters of the Department of Foreign Affairs was once the residence of the indochina Governor-General.
North of Sword Lake were the 36 streets, which together formed the commercial center of Vietnam. Banks and post offices were located to the west of the lake and the villas of French officials were located to the south.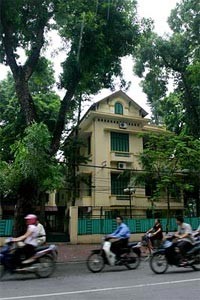 A villa in Le Hong Phong Street, Ha Noi

"Half of Ha Noi"

"Viet Nam's contemporary architecture coincidenced with the French colony. It was the most important transitional time for the Vietnamese architecture and urban," says Professor Hoang Dao Kinh, "because, before the 19th century, the Vietnamese architecture was completely traditional wooden. Westerners, especially the French, brought a new European style of architecture to Viet Nam, creating a transitional time bridging the traditional and the modern architecture."
At this time, many urban areas sprang up and their structures were completely new to the Vietnamese and the other Asian peoples. They included hospitals, post offices, iron bridges (Long Bien Bridge, for example), museums, institutes, hotels, theaters, even houses for rent (, detached houses, a precursor of modern-day apartment buildings).
The villas coexisted with other Vietnamese constructions of the 36 streets, ancient quarter and the natural scenes like Truc Bach or Sword lakes, creating a traditional heritage, and a dominant appearance of Ha Noi.
"Ha Noi's unique architecture has not been replicated anywhere, even in Africa, in any other Indochina country or any other French colony," says Mr. Tri.
Cultural expert Pham Hoang Hai explains, "As the French intended to stay in Viet Nam permanently, they put up architectural masterpieces. The French colonial government, the high ranking officials and businessmen built their residence to look like their home in France."
It is true that there are a few French villas in Ho Chi Minh City, Hue, Hai Phong, Da Lat, Sa Pa and Tam Dao but none of them can stand next to the ancient streets, complimenting each other like what is seen in Ha Noi. Mr. Kinh says that the villas make up half of Ha Noi.
There were some 2,000 ancient European, especially French, villas in Ha Noi, half of which were considered to have architectural values. They are now used as offices (in Ba Dinh, or Phan Dinh Phung, Nguyen Canh Chan streets) and residence for government senior officials. Many to the south of Sword Lake are also private homes.
A villa dream

"It is more difficult to build a modern house in Ha Noi than in Ho Chi Minh City," says Tri the architect. "This is because the French architecture left less influence in Ho Chi Minh City than in Ha Noi".
He and his colleagues sometimes get orders to build villas "like the ones in Ba Dinh" even though the owners did not have enough land to fit a flower garden. "It's not easy to convince them to build a modern place. To them, a French villa is an standard or a dream," he explained.
A villa on Phan Dinh Phung Street
The influence that the French style has had on the Chinese and the Vietnamese architecture is so great that it can be hard to tell which is which in the case of villas.
"Some Vietnamese villas were designed more carefully and sophistically, and even larger those of the old French officials," Mr. Phan Hoang Hai said. "The first Vietnamese architects were inspirated by old pagodas and created a unique Indochina architecture."
Such villas can be seen on Nguyen Du and Phan Dinh Phung streets. Their curved roofs, roof edgings and windows decorated with swastikas like what are found in pagodas, distinguishing them from the French villas. The villa belonging to the patriotic entrepreneur Trinh Van Bo still stands on Hoang Dieu Street. With an area of more than 1,000 meter and a garden, it looks like a royal palace.
The Chinese villas are a mixture of the French and the Chinese architecture. The roofs, walls and gates are often Chinese in style but are decorated with Chinese characters and symbols. A good example of this style is the Chinese embassy on Hoang Dieu Street, once the home of province chief Hoang Cao Khai.
"To the Chinese their homes were symbols of their status and showed their success in business", says Mr. Tri, who has just completed the restoration of one such place on Phan Boi Chau Street. It is now a business representative office. Like others, it is based on the French style of architecture and decorated with Chinese patterns.