German musician and visual artist Michael Vorfeld has arrived in Vietnam for talks and performances in Ho Chi Minh City from November 18 to 20.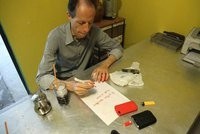 German artist Michael Vorfeld
Michael Vorfeld is a very original German percussionist and sound installation artist. He lives and works in Berlin.The musician is a member of the Heinrich Mucken band which was established in 1982.

Michael Vorfeld develops site-specific installations and performances with light and works with photography and film.
He is a member of various formations and cooperates with artists in a variety of fields.

His diverse activities include extensive concerts, performances and exhibitions in Europe, the USA, Asia and Australia.

The event is part of the "Germany in Vietnam 2010" program.