Contestant Nguyen Ngoc Kieu Khanh from the Federal Republic of Germany won Miss Sea title of the 2010 Vietnam Global Pageant on August 17.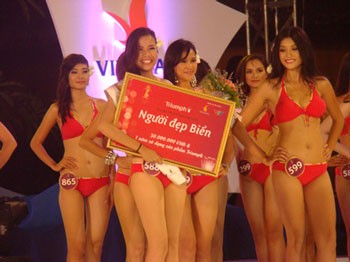 Nguyen Ngoc Kieu Khanh (C)
The young lady, 19, will receive a cash prize of VND30 million (US$1, 500) and a prioritized rank among the top 15 beauties due to enter the final night of the contest.

Miss Earth 2009, Larrisa Ramoz, arrived in Nha Trang for the competition as a member of the jury. She will come back the coastal city to give the crown to the new pageant winner in December. As planed, Miss Earth 2010 will be organized in the coastal city of Nha Trang from November 4 to December 4.

In related news, the organizer has revoked Miss Ao Dai title of Pham Thi Thuy Linh due to her aesthetic surgery.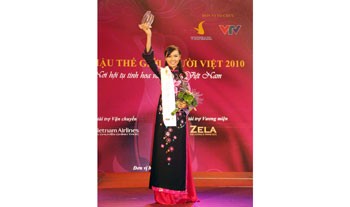 Ha Thi Hoang Anh
Linh said that she underwent a surgery of nose five years ago.

According to the organizer, Miss Ao Dai violated the rule of the beauty contest. She has to relinquish her title and stop the pageant.

Ha Thi Hoang Anh from Hanoi, triumphed over three beauties who are in the Top Five of Miss Ao Dai sub-competition, won the title on August 18.

A Gala Dinner and auction of right of crown grant will be held in the evening on August 18. All proceeds of the auction will be donated to charity fund.

Related articles:
Miss Fashion and Miss Ao Dai announced
Vietnamese American beauty wins Miss Sport
Miss Vietnam Global 2010 pageant kicks off
Concurrency of national beauty contests cause confusion
Miss Vietnam Global 2010 to keep billion-VND crown forever
World famous group IL Divo to perform in Miss Vietnam Global 2010