Andi and Hannes Teichmann, one of Germany's most popular DJ teams, are in Vietnam as part of their 2008 world tour. The brothers performed in HCMC last Sunday and will perform again in Hanoi Tuesday night. The DJs shared with Sai Gon Giai Phong their passion for music and the cultural differences they encountered in Vietnam.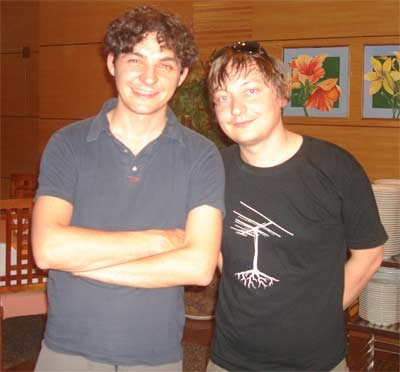 Hannes and Andi Teichman (R) pose for pictures in Ho Chi Minh City (Photo: Truong Son)
Sai Gon Giai Phong: On your first visit to Vietnam and Ho Chi Minh City, what do you think of our music lifestyle? Any difference between ours and yours?
Hannes: Very different. While performing at Bounce Top Floor [in Ho Chi Minh City] last Sunday, I recognized that music was not the main thing in the discotheque. People here come mostly to enjoy drinking and talking with friends and not all of them dance to the beat. In Germany, there are various clubs specializing in every genre. When someone selects a club in Germany, it means they want to enjoy that genre of that club and they come to the place absolutely because of that genre.  
By the way, here, people love hip hop. I can understand that. Hip hop has become big in Asia nowadays. But in Germany, the music table has places for dishes of all genres, from hip hop to jazz, from house trance to electrico and many more. And we cannot talk about which one is the most popular in our country. 
So how do you feel about the feedback from the audiences during the Sunday show?
Hannes: That was another thing that was different to what we have seen before. Well, during the show, I only noticed a few guys dancing on the ground while many of them sat on the sofa, drinking and talking only. I did not know whether they liked our music or not until the end of show, when some people left their sofas to come and tell us they liked our music a lot. Then I had the answer. Very different, you know. Hmm, in our country, a DJ easily recognizes whether the audiences like their music or not. If audiences dance to the music, means they like it, otherwise, they do not. It's easy to see. 

Well, a different culture and a different way to enjoy and express the feeling. Let's get back to your music, you set up your own label Festplatten in the new genre called minimal techno. It's quite new to us so could you explain a little bit about this genre?
Hannes: Minimal techno is a form of electronic dance music that's considered a minimalist sub-genre of techno. It is characterized by a stripped-down aesthetic that exploits the use of repetition, and understated development. It was originally developed in the early 90s by Detroit based producers Robert Hood and Daniel Bell. To us, these two are kings of this genre.  
Andi: Another point I want to share with you is minimal techno is a genre in which we try to use less music effects as much as possible. This method is quite different to the method used in dance or trance (music). I still remember that Robert Hood defined this new genre as "a basic stripped-down raw sound. Just drums, basslines and funky grooves and only what's essential". Only what is essential to make people move. I started to look at it as a science, the art of making people move their butts, speaking to their heart, mind and soul. It's a heart-felt rhythmic techno sound". 
How did you find passion in that music? Why did you choose it to develop as your main genre?
Hannes: First of all, we were born into an artist family. My father is a talented jazz musician and obviously we were born with some good tastes about music. When growing up, we decided not to follow his music but formed a punk band. Around 1994-1995, various new music genres were established and promoted in Europe, especially in Germany but not defined. And we chanced on the minimal techno while we listen to some new music. Later, we loved it and we wanted to develop it more and more. That's the motivation for us to keep the desire for this genre.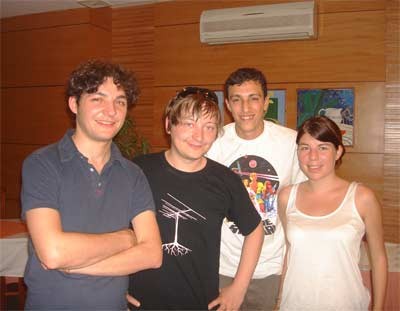 The Teichmann brothers with their old friends in HCM City (Photo: Truong Son)

Did you learn DJ techniques at school in Germany?
 
Hannes: No we did not. Germany does not have many schools that have a DJ course. Some private schools have, I mean music schools. But we did not attend any school. We learned on our own. There are various ways for someone to become a DJ and it's not easy to explain it all in a short period. 
 
Have you ever met any Vietnamese DJs before? How do you evaluate them?
 
Andi: I only had chance to meet one from your country, DJ Tri Minh in our country. Last year, we first met and performed together in "C/O Pop Festival" in Cologne and "Berghain Kantine" in Berlin in August and this year we met each other again in same two festivals this August. He's a good musician and he's intellectual. I was impressed by his music the first time. He performed with some zither artists in the traditional songs. While the zither artists play their instruments softy with original music, he used the DJ equipments and materials from electronic and techno to mix that music. The mixture is definitely great.  
 
You performed in the same festival but separately, didn't you? Any plan to join hands with Vietnamese artists to make compilation products in the coming time?
 
Hannes: Oh, I forgot telling you that tonight we will cooperate with a Vietnamese singer Pham Thi Hue whose major is ca trù [ancient genre of chamber music featuring female vocalists, with origins in northern Vietnam] at a show at Tuoi Tre Theatre in Ha Noi. She will act the role as singer while we will play the background music. The most surprising thing is she will sing our song, I mean a minimal techno song. 
 
Have you ever used Asian music materials in your products?
 
Hannes: I'm afraid not. We only used some Japanese electrico instruments so maybe we can consider that our products had Asian materials … (laughs).
Andi: But I'm sure that we will consider to using them in our products in the near future. Definitely will. 
 
Can you talk a little bit about your world tour 2008 and the objectives in Vietnam this time?
 
Hannes: We are visiting Vietnam this time to promote the European Music Festival 2008. And we also consider Vietnam as one venue in our world tour 2008. I cannot remember all the venues in the world tour now, we only discuss some in Asia, ok? We have already performed in Guangzhou in China two weeks ago and in Beijing one week later. Before arriving in Vietnam, we also visited Hong Kong to promote our music. The tour is fantastic. Vietnam is the last venue of Asia in our world tour list. We will go back to Switzerland to go on with the tour there. 
 
What is your plan for future?
 
Hannes: In the near future, we will release the second single from the newest CD in December. Later, we will release the single under the forms of vinyl or maxim for DJs. The next year will welcome at least another three singles from the CD before the CD is released officially. 
 
It's quite different to American showbiz where a singer releases a CD first and later release singles from it. Some only promote only one or two singles before the CD is released. But you will release all singles from the CD before releasing the CD?
 
Andi: Yes, a little bit different to that culture. But the music of CD version will be shorter than the music of single version. 

Related article: 
German rock stars to perform in HCMC