Hellmut Kapfenberger, German journalist, writer and author of the book "Ho Chi Minh – a chronicle", will travel to Vietnam for exchanges with Vietnamese readers from April 13 to 27.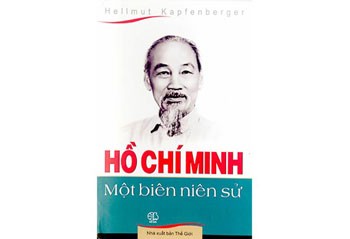 The Vietnamese edition of the book "Ho Chi Minh – a chronicle" by German journalist and writer Hellmut Kapfenberger.
The writer will meet historical witnesses such as General Dong Sy Nguyen and soldiers who served on the Truong Son road, visit historical sites related to the Ho Chi Minh Trail and collect documents and material for his next book on Vietnam and the legendary trail.
Hellmut Kapfenberger lived and worked in Vietnam for seven years as a correspondent for the News Agency of the German Democratic Republic (AND) and the New German newspaper between 1970-1973 and 1980-1984.
His deep sentiments and respect for President Ho Chi Minh was evident in his book "Ho Chi Minh – A Chronicle" which was released in 2009 by the publishing house Neues Leben in Germany.
The Vietnamese edition of the book was published in May 2010 to celebrate the 120th birth anniversary of President Ho Chi Minh and the 35th anniversary of Vietnam-German diplomatic relations.