A new exhibit by German photographer Jochen Voigt debuts in Ho Chi Minh City October 25 featuring a look at Vietnam's journey from war to peace.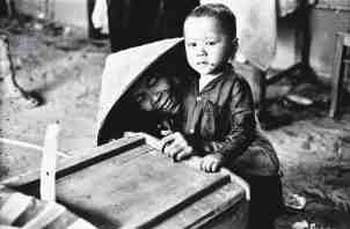 A photo on display at German photographer Jochen Voigt's exhibit in HCMC, running from October 25 to November 8 (Photo: Courtesy of German Consulate General)
The exhibit, Nhip cau thoi gian – Ky uc cho tuong lai (Bridge of time – Memories for future) presents 127 black-and-white, and color photos of Vietnam and its people during two periods, from 1967-1968 and 2003-2008. 
Voigt says the concept behind the display is to compare and contrast the country during two distinct periods of war and peace. From this perspective, observers can examine the path to peace and appreciate where it is now, he says. 
At the exhibit, every guest is a voyager, says Voigt. Observers will begin their journey from the south to the north and from the past to the present.  
"The main point to learn during the trip is that in whichever situation, good or bad, happy or sad, Vietnamese people still retain their friendliness and their hope," the photographer told SGGP. 
"This is not a war exhibit, nor a tourism exhibit. The message is: Look back on the past and learn how to treasure peace in the present and future." 
The display is sponsored by the German Consulate General HCM City in HCM City and will remain open until November 8 at the HCMC Exhibition House, 92 Le Thanh Ton, District 1. 
Jochen Voigt is also a writer and documentary film director.