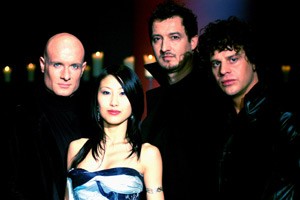 The Krypteria
The rock band Krypteria from the Federal Republic of Germany will perform in Football Day "All for Champion 06", organized by Tiger Beer on May 5, 2006 at the Military Zone 7 Stadium.
The rock band has four members, three males and one female. Korean-German singer Cho Ji-in plays the piano. Chris Siemons plays the guitar and the keyboards. Singer Frank Stumvoll, the band's founder and producer, plays bass. And S.C.Kuschnerus, the band's co-founder and composer, plays the drum.

Performing symphony rock, the Krypteria is very popular in Europe and U.S.
They are also chosen to support the Korean football team in the World Cup 2006 in Germany.

On Football Day "All for Champion 06", the German rock band Krypteria will be accompanied by Vietnamese pop stars.