Teichmann Brothers, a German band, who will take part in the 10th European Music Festival to be held in Ha Noi and HCM City from November 25 to December 7, will perform at Parkson Saigontourist Plaza in HCMC on November 23.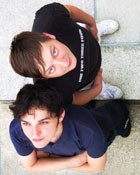 The Teichmann Brothers
The band comprises brothers Andi and Hannes Teichmann, born in 1976 and 1979 in Revensburg, who discovered a love for music at an early age through their father, a jazz musician.

Their music combines Acid, Chicago, Techno, Rock and House. From the time they set up electro-rock band Beige GT and won national and international acclaim in 2001 for their first album "Jukebox Heroes", the two DJ's and producers have been considered important representatives of German electro-culture. Their passion for digital music finds expression in their work as producers of electronic sound.

They have successfully toured Europe, Asia and America. In 2002 they were awarded the Culture Prize of the City of Regensburg, becoming the youngest recipients of this award in the city's history.

Related article:
Ha Noi, HCMC to Host European Music Festival