The Center for Preservation of Hue Relics has joined hands with Germany's Leibniz Cultural Exchange Association to restore the interior and murals of the An Dinh Palace.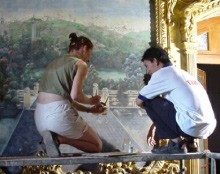 German expert (L) is restoring a mural.
The total cost of the restoration is EUR444, 000, of which the Ministry of Foreign Affairs of the Federal Republic of Germany provides EUR355, 000 as non-refundable aid.
The project is aimed to restore the murals and interior decorations of the An Dinh Palace in accordance with international criteria, and to organize training courses on wall painting restoration and preservation.
Six paintings in the Khai Tuong Pavilion were restored in the first phase of 2003 - 2004.
About 3,610m2 of paintings and decorations in run-down conditions on the three storeys have been restored  for the second phase of 2005 - 2007.
The restoration has been done for seven main rooms of the An Dinh palace by late January 2007.