Situated right in the heart of Ho Chi Minh City is a very famous landmark, the Notre Dame Cathedral. Just a few steps from it is a shop where you can easily order or buy a picture frame, or the staff reframe your exiting pictures.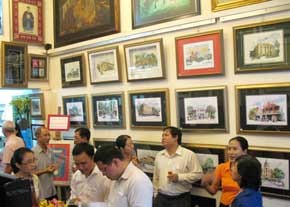 Visitors at Art World Picture Frame (Photo: Tuong Thuy)
Art World Picture Frame was set up in 1998 and has established its name in framing business.
In 1997, Englishman Keith Hewitt from Manchester City first came to Ho Chi Minh City.
"I met Le Nghia Hiep in 1997 when I first came to the city," Hewitt told his Ho Chi Minh City business start-up story during the 10th anniversary celebration on Nov. 18 at his shop.

"At that time I had just flown in from Singapore where I had been listening to a top picture framer. He told me he did a lot of framing for Vietnamese residents… Seeing this gap in the market, Hiep and I decided to start a frame shop, but only working to highest standards."
"But before we could start, Hiep needed to go overseas to learn all about framing. I arranged a trip for him to Denmark and England. In England, he stayed in my house, and every for three weeks, went to a framer in Manchester to learn all about framing."
"Then exactly 10 years ago we opened our first shop in the city," added Hewitt, who is a part-owner of the shop.
Saigon inhabitant Hiep is the other owner. "To improve our knowledge and skills, we went on a trip to Australia to study framing with Vivian Kistler, one of the top framing trainers in the world," Hiep said.
Hewitt showed a certificate to prove that Kistler has sold over one million books about picture framing.
He said in 2005, he and Hiep made "our biggest investment of US$15,000" to buy a computerized mount cutter. Then, Hiep showed how the machine could do complicated windows quickly. On the computer, he selected different shapes to put on a frame and pressed a button, and the mount cutter finished its job in a few minutes.

During the 10th anniversary celebration of his shop, Hewitt showed both sides of the frame for Vietnamese weightlifter Hoang Anh Tuan's 2008 Olympics silver medal. "Only last week we were honored to be asked to frame this medal," he said.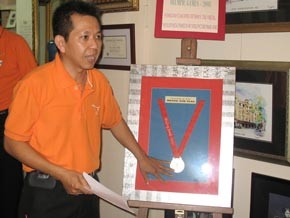 Le Nghia Hiep shows the frame with Hoang Anh Tuan's 2008 Olympics silver medal inside on Nov. 18 (Photo: Tuong Thuy)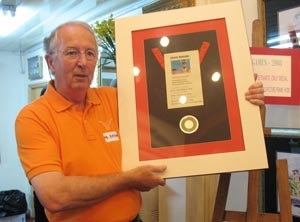 Keith Hewitt shows the other side of the frame with the Olympics silver(Photo: Tuong Thuy)
Hoang Anh Tuan is the second Vietnamese athlete to win an Olympics silver medal after Tran Hieu Ngan, the lady who won a silver at the 2000 Sydney Olympics.
Located at 57 Nguyen Du Street, District 1, Art World Picture Frame stocks over lots of imported frames with various choices of mount decorations, and the staff can recommend a suitable frame for a picture. They can frame silk, tapestries, medals, certificates, photographs, oil, watercolors or prints.