The number of gongs in the Central Highlands province of Gia Lai has been falling because ethnic people have sold them, the province Department of Culture, Sports and Tourism said recently.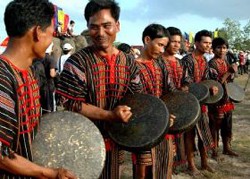 Gongs in Gia Lai are fading away
Forty-nine in 409 villages in Districts of Dac Doa, Mang Yang, Dac Po, Khang, Kong Chro and An Khe town do not have gongs any more.
Dak Doa alone has 42 villages without gongs. From 2005 to 2008, 39 sets of gongs had been sold.
In Gia Lai now, just six districts and the town keeps 2,282 sets of gongs, with 50 precious sets respectively.