Guinness World Records will acknowledge a giant jigsaw puzzle made like the map of Vietnam as the largest in the world, at Phu Tho indoor stadium in District 11 in Ho Chi Minh City on September 24.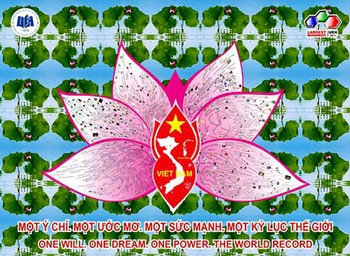 Students from the Ho Chi Minh City University of Economics have created the largest jigsaw map of Vietnam in the world.
The largest map of Vietnam created like a jigsaw puzzle with 551,232 pieces was made by 1,600 students of the Ho Chi Minh City University of Economics. Once assembled, the map spreads out over an area of 660 square meters.
The jigsaw map of Vietnam is designed with an image of a 6-petal pink lotus, highlighting aspects of the country such as its people, geography, history, culture, education and the economy.
The jigsaw creation of the map of Vietnam has broken the Guinness World Record held earlier by Singapore with 212,323 pieces in 2002 and by China with its 600 square meter creation.