Viet Nam's largest silk hand embroidered painting will be created by XQ Silk Hand Embroidery Company to commemorate the 1000-year anniversary of the founding of the Thang Long Ancient Capital in Hanoi. The company announced the production plans at a press conference on Monday in Ha Noi.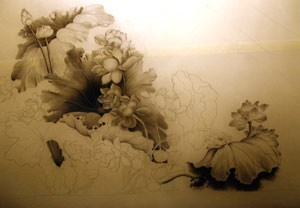 The draft of the painting
The painting will portray images of Thang Long-Ha Noi, and will be made from 12 kilos of embroidery thread to measure 4x3 meters and weigh approximately 167.5 kilos.

The painting will be larger than the current largest embroidered painting in Viet Nam, titled 'Origin' also made by XQ and recorded in Vietnam's Guinness Record Book.

The painting depicts lotuses, representing the spirit of Vietnamese culture. The background is of ancient streets, old houses and pagodas in autumn while a dragon-like river looks as if it is winding into the sky, symbolizing the eternal aspiration of the nation.
The painting's initiation ceremony will take place at the Van Mieu-Quoc Tu Giam (Temple of Literature and National University) in Ha Noi on October 7. Then the painting will be created at the XQ embroidery workshop in Da Lat. It is expected to be completed by 2010 for the 1000th anniversary of Thang Long – Ha Noi.