The biggest wooden calligraphy book of Viet Nam's declarations of independence by calligrapher Trinh Tuan is on display at the Viet Nam Cultural Expo Center at 2 Hoa Lu Street, Ha Noi from now until July 28.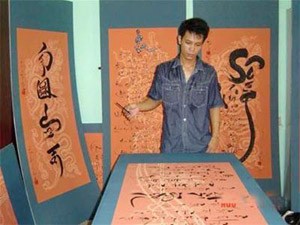 Calligrapher Trinh Tuan
The 300Kg wooden book measures two meters long, is 84cm wide and recaptures the political classics, considered Viet Nam's declarations of independence scribed on the card pages inside, they include: Ly Thuong Kiet's 10th century Nam Quoc Son Ha, Nguyen Trai's 15th century Binh Ngo Dai Cao, and President Ho Chi Minh's 20th Century Tuyen Ngon Doc Lap.

The gigantic wooden book will be entered into Viet Nam's Record Books and will be offered to the Viet Nam Military History Museum in Ha Noi.

Trinh Tuan, 26, set his first record by copying 3,254 verses of "Truyen Kieu" (The tale of Kieu), a masterpiece by great poet Nguyen Du, in Sino-Vietnamese characters on a 300-meter long piece of cloth in 2005.

Born in 1981, Trinh Tuan graduated from Ha Noi University of Culture and he is now Director of the Q&T Communication Company.

Ly Thuong Kiet (1019 - 1105) was a famous general who served valiantly during the Ly Dynasty.

Nguyen Trai (1380-1442), (pseudonym Uc Trai) was a great poet and also a talented politician and strategist under the Le Dynasty.

President Ho Chi Minh (1890 – 1969), the great leader of the Party and Nation, lives forever in the hearts of the people of Viet Nam.