UNESCO officially honoured Vietnam's Giong festival as an Intangible Cultural Heritage of Humanity at a meeting of its Inter-Governmental Committee in Nairobi, Kenya, on November 16.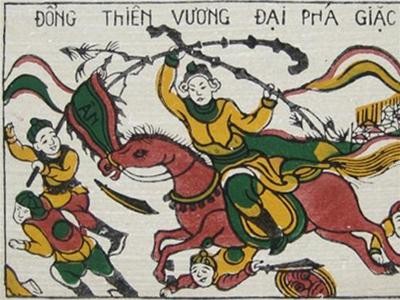 A Dong Ho painting depicts Thanh Giong fighting An conquerers.
The Hanoi People's Committee reported that it is Hanoi's third heritage honour presented by the United Nations Educational, Scientific and Cultural Organisation (UNESCO) in 2010.
The other sites include 82 steles engraved with names of doctorate holders for centuries in the Van Mieu-Quoc Tu Giam, Vietnam's first university, which have been recognised as Documentary Heritage of the Memory of the World programme. The central site of the Thang Long Royal Citadel has won the title "World Cultural Heritage".
The Giong festival is held annually in several parts of northern Vietnam, most typically in the Phu Dong and Soc Temples in Hanoi, to commemorate Saint Giong, one of the immortal quartets in the Vietnamese legends.
Legend has it that under the sixth King Hung's reign (around 500 BC) Vietnam was threatened by the Kingdom of Yin, to the north of Vietnam.
A little boy, who was unable to crawl, roll over and say a single word at the age of three, had surprisingly grown up to a giant man in just several days after getting news on the foreign invasion. He used local bushes of bamboo to defeat aggressors and flew into the sky with his iron horse after the final victory.
In order to show their gratitude to the hero of Giong village, people proclaimed him Saint Giong.
The festival meets all qualifications for an intangible cultural heritage of humanity as it has been conserved by the community as part of the national cultural identity, handed down from generations to generations, holds creativeness of humanity and represents aspiration for prosperity by every family and peace for the nation and the world.
The Giong festival was among 46 candidates from 29 nations that UNESCO recognised as intangible cultural heritage in 2010 after considering 113 dossiers submitted by 32 member nations.