Goethe-Institute will present an exhibition of 17 Artists from Vietnam, Thailand, Myanmar, Cambodia, Indonesia and the Philippines at the Cactus Contemporary Art Gallery at 17/12 Nguyen Huy Tuong in Binh Thanh District in Ho Chi Minh City from May 13-26 from 9am-7pm.
The Red River and the Mekong Deltas, the Irrawaddy and the Chaopraya - Southeast Asia is characterised by stunning river landscapes like no other place on earth. Yet these lifelines and vital ecosystems are acutely endangered by the consequences of socio-economic development and climate change. The riverscapes, and with them the livelihoods of millions of people, face the threat of destruction.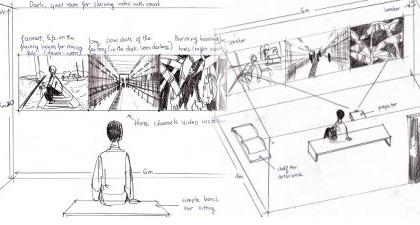 Phan Thao Nguyen's work, Mekong Mechanical
The art project "Riverscapes in Flux", conceptualised and organised by the Goethe-Institute in Vietnam, seeks to create a discourse on this ecological key issue in a new context. The Goethe-Institute invited 17 young artists from Vietnam, Thailand, Cambodia, Myanmar, Indonesia and the Philippines to reflect in their work the ecological as well as socio-economic and cultural changes that the riverscapes in these countries are currently experiencing.
17 art works have been created--Multimedia installations and photo series, videos and object installations. The resulting artworks are as varied as the problems the people along their respective rivers are facing--Aung Ko from Myanmar with his painted boat made from felt visualises the fishermen along the Irrawaddy--they have to give up because the construction of a massive dam is causing the extinction of fish in the river.
Than Sok from Cambodia presents an installation of traditional scarecrows that are rendered useless with rice fields no longer yielding crops due to floods. Nguyen Thi Thanh Mai from Hue recalls the victims of the dramatic flood in 1999 with her installation of 70 wooden boxes displaying objects found along the Huong River, like shoes and sandals. Her work is supposed to be an interactive installation--visitors to the exhibition can add objects in memory of victims of floods in their own countries.
The exhibition will celebrate its opening in CACTUS Contemporary Art Gallery in Ho Chi Minh City on May 12. On May 14, there will be a discussion evening with Vietnamese artists Nguyen Thi Thanh Mai, Nguyen The Son and Luong Hue Trinh and the artist Som Sutthirat Supaparinya from Thailand, facilitated by curator Tran Luong. May 19 will see a "Green Art Weekend" in association with "Live and Learn International", with movies, discussions, and a science slam on the issue of climate change, games and creative activities.
With this art project, the Goethe-Institute wants to contribute to raising awareness about the invaluable ecological and cultural heritage which the river landscapes in Southeast Asia represent and create networks between artists beyond borders.
After Hanoi and HCMC, Goethe-Institute will present the exhibition in Bangkok, Phnom Penh, Jakarta and Manila.
Visit the exhibition online at: http://blog.goethe.de/riverscapes