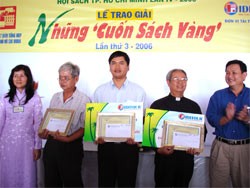 At the prize-giving ceremony (Photo: VH)
The organizing board has awarded three book series with the highest prizes for the category of serial books in the third Golden Books competition.
A two-book series of Nguyen Nhat Anh entitled "Dictionnaire Annamite-Francais: Langue Officielle et vulgaire", published in 1899 and written by Jean Bonet, is awarded the first prize. The series provides important information for researchers.
The second prizes are given to a book series composed by King Tu Duc and "Le vieux Tonkin", written by Claude Bourrin.
The former, with ten volumes, contains 212 ancient poems written by the fourth Emperor of the Nguyễn Dynasty in 1874.
The latter, including two volumes, tells about the arts, sports and customs of people in the North from 1884 to 1889. The two books were printed in Sai Gon in 1935, containing many lively photographs.
The book "Tvchinensis Histoire", composed by Alexandro de Rhodes and published in 1652, receives the first prize for the category of single volume. The edition, written in Latin, tells about the history of the North in the 1617-1646 period.
Two other informative books both written by scholar Truong Vinh Ky, entitled "Grammaire de la language annamite", released in 1884 and "Cours d'histoire annamite", published in 1875, win the runner-up prizes for the category of single volume.
The first third prize is awarded to the owner of the book entitled "Kim Van Kieu Tan Truyen" (The Tale of Kieu). The 18th century poet Nguyen Du wrote the artwork in Chinese-transcribed Vietnamese, and it was then printed in 1879.
The second third prize is handed over to a high valuable Vietnamese-French dictionary ( Dictionnaire élémentaire Annamite-Francais) that was printed in 1874.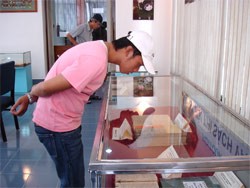 Golden Books are on display in the festival. (Photo: VH)
The organizing panel also gives some coveted prizes to many other informative books.
The Golden Books Competition was entered by 426 remarkable books, including 47 dictionaries, 250 books in Vietnamese, 86 volumes in French and 43 editions in English, Latin, Chinese characters and Chinese-transcribed Vietnamese.
The prize-giving ceremony was held on March, 23, 2006.